Vacuum Induction Melting
The Process - Small VIM Furnaces - Configurations - Batch or Semi-continuous - Large VIM Furnaces Configurations - Applications - Reliability- Maintenance, Cleaning and Productivity
Vacuum System Design - Material handling and charging systems - Induction Power Equipment
Vacuum Isolation Valves - Hot Tundish Insertion - Controls

The Process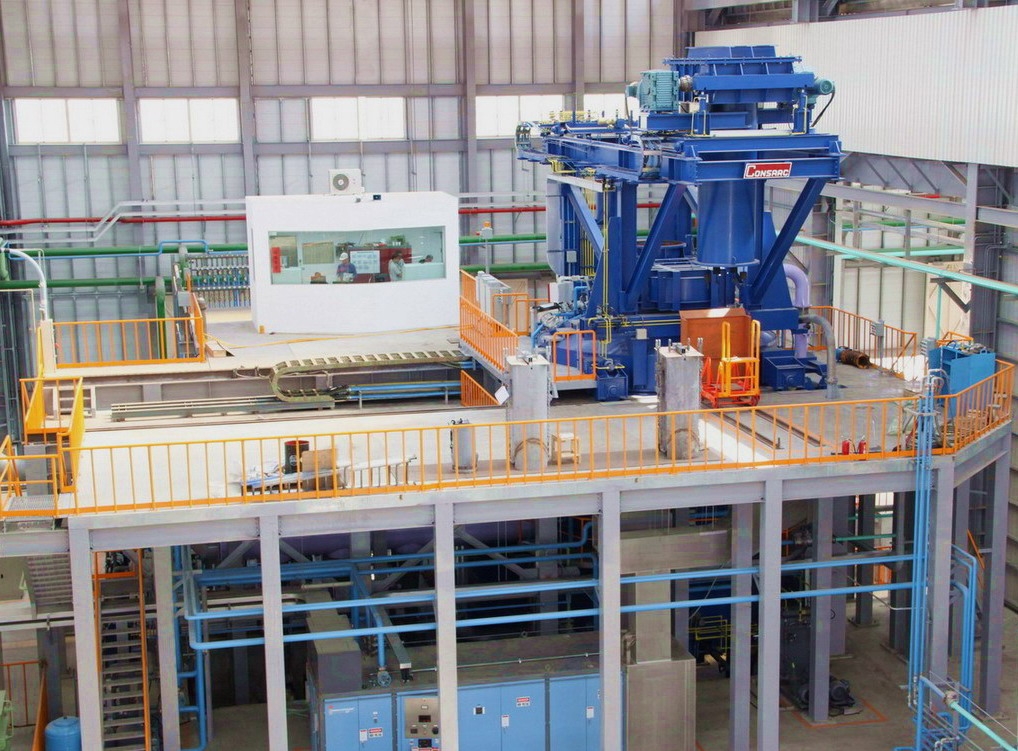 The Vacuum Induction Melting (VIM) Process,
initiallyused to meet alloy requirements of
specialized industries, is becoming more
and more essential in the production of high
performance materials for many industrial
applications. VIM melted alloys are used in
very demanding situations, including Nickel
based super alloys for high temperature
applications, stainless steels for nuclear
applications, Cobalt based alloy for medical
applications, high purity copper alloys and
very clean magnetic alloys for high permeability.
The VIM process involves the melting of metals by means of electromagnetic induction while under
vacuum. Melting takes place within a furnace consisting of a refractory lining or crucible inside a
water-cooled induction coil. The furnace assembly is completely enclosed by a fabricated steel,
water cooled furnace chamber that is evacuated by a series of vacuum pumps so that the charge
may be melted down, refined and poured into molds under vacuum or inert gas.
This process permits the refining of metals and alloys that contain elements having a strong affinity
for certain gases such as oxygen. Chemical reaction, dissociation and flotation remove dissolved
and chemically bonded impurities. Melt chemistry can be accurately adjusted thereby producing an
end product that is clean and homogeneous.
Small VIM Furnaces
Consarc have developed a range of VIM furnaces from 2-100 kg (steel) melt capacity for use in small
scale production or research applications. Standard designs are available and Consarc also welcome
the opportunity to design a specific furnace to meet individual customer requirements and applications.
The design utilises a water-cooled vacuum chamber, providing optimum access for cold charging and servicing in a batch mode of operation. The chamber also houses auxiliary equipment with standard
and optional features provided by Consarc to ensure maximum flexibility and ease of operation.
These features can include: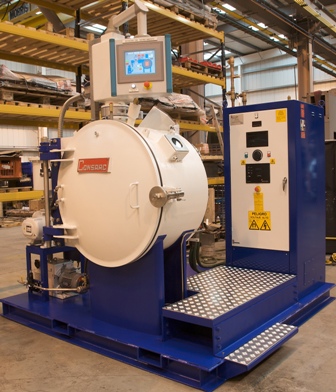 Bulk charging and fine alloy additions
Sample taking
Immersion thermocouple
Mold turntable/trolley for pouring multiple molds
in a single cycle
Centrifugal casting
Sight glass viewing port(s)
High vacuum pumping system
Optical pyrometer
Bridge breaker
Configurations - Side opening & Top opening designs
Horizontal furnaces with front opening access door or Vertical chamber configurations with a top opening lid can be supplied depending on the application and available floor space.
Batch or Semi-continuous
Using a modular design concept enables this range of batch
VIM furnaces to be upgraded to a semi-continuous VIM or
vacuum precision casting furnace with the addition of a mold
cha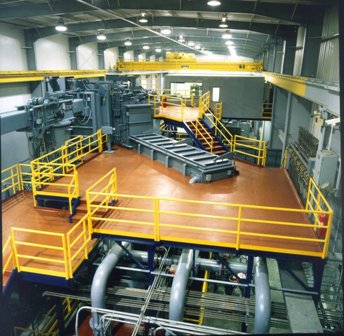 mber at a later date.
Large VIM Furnaces
Consarc has designed and built over half of the large (3
tonnes or more) Vacuum Induction Melting systems in
the world. Consarc follows in the tradition of its parent
company, Inductotherm, a leader in the induction furnace
technology, by meeting exceptional challenges with
creative problem solving. By designing highly efficient
VIM furnace systems that meet customers' unique
needs and exceed their expectations, we have built up
an impressive track record.
Configurations Batch or Semi-continuous
Our engineers will design and build a system that is compatible with your process, your alloys, your specifications and the annual tonnage you desire. This could involve a multi-chamber, semi continuous furnace for large operations or a cost effective single chamber batch design for smaller needs.
Applications
Consarc VIM furnaces are primarily used for producing large ingots (electrodes) for remelting and small round bars (master alloy barstock) for precision casting.
Reliability
All Consarc VIM furnaces are efficient, easy to operate and designed for consistent and reliable operation with maximum productivity. They are reliable rugged units that will thrive in even the most demanding factory environment.
Maintenance, Cleaning and Productivity
Consarc Vacuum Induction Melting furnaces are specifically designed for the harsh environment that the VIM process creates. An essential part of the process involves the volatilization of dissolved gases and harmful metallic trace contaminants. Therefore metallic vapours are created during the refining process and this generates a dusty, hazardous environment inside the melting chamber.
Consarc ensure that the VIM furnace and melting chamber is adequately sized and designed to operate well in this dusty environment and that the furnace can operate for many consecutive melting cycles without the need for comprehensive cleaning between melts. This simple design philosophy ensures that the VIM furnace offers the highest possible productivity in operation. Also when cleaning is required the chamber and surrounding platform are designed to make this a simple, safe operation for operators with appropriate apparatus and safety equipment.
Vacuum System Design
Vacuum pumping systems are designed to provide consistent vacuum performance to suit the individual process requirements. These pumping systems are designed with oil sealed rotary pumps, dry pumps, roots blowers, oil boosters or oil diffusion pumps as required. Steam ejector systems can also be employed on the largest systems.
Material handling and charging systems
Our Vacuum Induction Melting Furnaces offer a variety of materials handling systems for charging (Vertical bucket type chargers and horizontal Vibratory side feeders), sampling, tilting, mold movement, tundish handling and fast removal and replacement of induction melting units with their refractories.
Induction Power Equipment
Melting power is supplied from a solid state Inductotherm induction power supply. It is taken through the vacuum chamber by means of a vacuum sealed power feed through or power port assembly to the melting coil. A specially designed quick change power port allows melting furnace coil assemblies to be rapidly exchanged in the hot condition thereby saving production time and increasing productivity.
Vacuum Isolation Valves
Consarc also design and fabricate our own range of water-cooled isolation valves to accommodate the larger sizes required for larger units.
Hot Tundish Insertion
In most large system designs a hot tundish insertion system is supplied. The hot tundish insertion process
allows insertion of a heated tundish without disturbing the vacuum in the melting chamber, thus improving
the quality of the product. The tundish is a preformed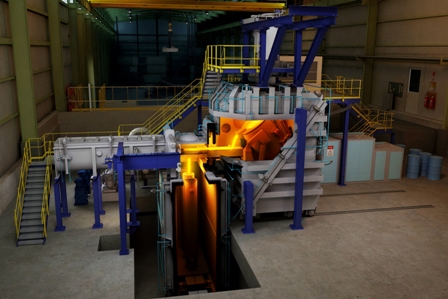 ceramic launder which incorporates a series of dams,
weir and filters with a pouring nozzle at one end. As
metal is poured through the tundish, dross and potential
inclusions are filtered out ensuring a clean metal stream
arrives at the nozzle for smooth pouring into the molds.
Controls
The Vacuum Induction Melting furnaces incorporate the
latest PLC and PC SCADA controls to accurately monitor
and control the melting process and provide extensive
data acquisition of melt process parameters.
Back to Top