Vacuum Brazing
Whilst offering a wide range of vacuum aluminium furnace designs for a variety of applications, Consarc also has the flexibility to cater for the individual needs of customers.
Applications - Vacuum Pumping Systems - Temperature Uniformity Control - Control Systems
Handling systems - Forced Cooling - Hot Water System - Furnace Design
Applications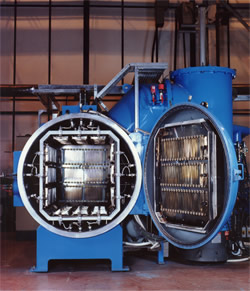 Aerospace heat exchangers and other components
Automotive radiators, evaporators, condensers and oil coolers
Research and development
Electronic cold plates
Microwave components
Cryogenic heat exchangers
Refrigeration exchangers
Compressor oil coolers
Handling Systems.
Consarc aluminium brazing furnaces have several unique advantages found in special features in the Vacuum System and the Temperature Uniformity Control System.
Vacuum Pumping Systems
Consarc has designed vacuum pumping systems to match the size of the furnace and the size of the loads in the furnace. The systems offered by Consarc are designed to achieve working vacuum in the low 10-5 torr range. For superior vacuum performance, hot zone shields have gas passage louvres to permit easy escape of gases from the work assembly. Both the internal volume and surface areas of aluminium components must be evacuated free of moisture vapour and air, to ensure high quality brazing.
For improved vacuum performance, an optional cryogenic pumping system is available. This allows the furnace to achieve a working vacuum in the low 10-6 mbar range by the pumping of water vapour and condensable gases which are condensed on a cryogenically cooled coil within the furnace.
Temperature Uniformity Control
Components that have uniform surface characteristics and symmetry of shape have shown wide temperature variations when uniformly heated. Corners and edges of components will rise faster in temperature than mid-plane sections, resulting in wide temperature differentials. Consarc manufacture a range of furnaces with adjustable zones made up of individually "trimmable" heating panels, with temperature control guaranteed within +/-3°C.
Vertical and horizontal adjustment of temperature profile further aids uniform heating, resulting in increased flexibility in the hot zone arrangement. Multiple heat zones have been designed with individual power controls. This permits a balance of heat input which matches the workload and fixture thermal characteristics. Closely spaced ribbon heating elements with edges facing the work provide the best in uniform heating characteristics. The work can be located closer to the elements. There is more usable space in the hot zone allowing higher throughput. Both sides of the elements can see or "radiate to" the work. Reflected energy from the heat shield's full face can pass between the elements to the work with less obstruction. The element temperature is close to the shield temperature so the work "sees" a more uniform temperature heat source. Debris will fall through the "edge facing" elements and will not collect as it does on "facing flat" elements in the bottom of the furnace where debris will cause localised element burnout.
Control Systems
Consarc brazing furnaces are operated by free-standing control equipment, housing temperature instrumentation plus complete control and vacuum monitoring system. Depending on the size of the furnace and the requirements of the customer, Consarc has a comprehensive range of controls using PLC with the facility for P.C. supervision complete with data acquisition, SPC and Networking if requested.
Handling systems
Consarc supply a wide range of handling systems engineered to suit the specific application.
Handling systems can be as simple as manual load truck devices to complete automatic load carrier assemblies for ease of loading and fast turnaround times. Ergonomically designed load stations, with vertical raise and lower facilities, are also available for ease of operator use.
Forced Cooling
For faster production or achieving specific metallurgical properties in heat treatable alloys, forced cooling systems are available. These can either be integral recirculating systems, particularly for small volume units, or stand alone air blast cooling stations.
Hot Water System
To overcome the problem of sweating of the furnace internal surfaces, water in the furnace jackets is allowed to run warm, so that the chamber wall temperature is above the atmospheric dew point, thus preventing condensation but always within safe operating limits.
Furnace Design
Consarc manufacture a wide range of vacuum brazing furnaces, either with horizontal design for small volume aerospace and automotive parts or in larger rectangular design for high volume automotive parts. Rectangular furnaces for large volume production can also be supplied with Cryogenic pumping systems.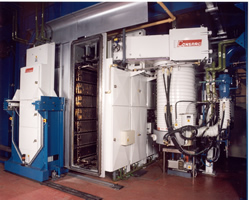 All furnaces can be engineered to meet a variety of customer specifications.
Back to Top